Since its introduction, many have upgraded their Ring Alarm system for the new Ring Alarm Pro. After all, you get enhanced home security plus an eero 6 router that also offers extra internet security. A win-win right? In theory, absolutely! But what about in real, everyday use?
Some Ring Alarm Pro users who previously had NO problems with their internet, suddenly started to after installing the Ring Alarm Pro. Complaints such as tanked internet speed and even spotty connection have been reported. This is supposed to improve your internet – so what gives?
What is the Ring Alarm Pro?
The Ring Alarm Pro is one of the newest additions to the Ring family of home security. It was introduced in November of 2021 as an alternative to the regular Ring Alarm.
Much like the non-pro version, the Ring Alarm Pro bundle gives you a keypad, contact sensors for your doors and windows, motion sensors for other spaces, as well as the Base Station.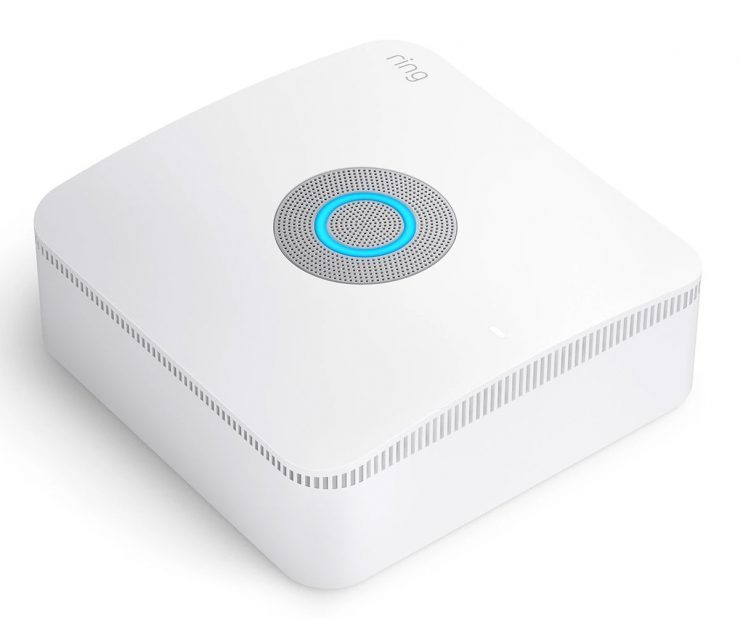 In order to get the most out of your Ring Alarm Pro system, you'll want to opt for the Ring Protect Pro subscription plan. For $20 per month, this gives you access to extra features such as 24/7 Professional Monitoring, as well as Cellular backup in case the internet goes out.
All of the Ring Alarm components connect to each other via the Base Station, which allows them to communicate with each other via a Z-Wave mesh network. You only use one Base Station per location.
You can also expand your Ring Alarm and Ring Alarm Pro Systems by adding Ring indoor and outdoor cameras, for extra security. You can also add on other Z-Wave compatible devices that work with Ring, such as smart locks, switches, and more. The Ring Alarm systems can also be used with Alexa-enabled devices such as the Amazon Echo.
With the two Alarm Systems being so similar, what makes the Ring Alarm Pro different?
The difference lies within the Base Station. Unlike the regular Ring Base Station, the one for the Ring Alarm Pro has a built-in eero 6 router. This router will replace your existing Wi-Fi router, so that you're using the eero 6 router instead.
Using the Z-Wave mesh network, the Base Station communicates to all of the different Ring Alarm Pro components. It also 'speaks' Wi-Fi, giving the alarm system devices the ability to communicate with the Ring app, as well as any other Ring cameras or Wi-Fi devices you may have added to your Ring app.
But how exactly does this eero 6 router work as a replacement of your Wi-Fi?
How the Eero 6 Router Works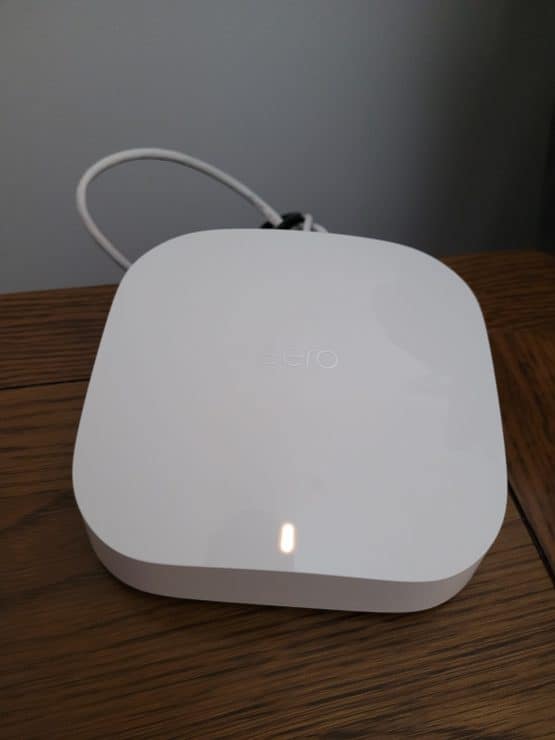 The Eero 6 router replaces your existing Wi-Fi internet router. In fact, Ring states that it must be used instead of your regular Wi-fi in order for the Ring Alarm Pro System to work correctly.
The optimal way to set up your Ring Alarm Pro Base Station is by connecting it via ethernet cord to your existing modem. From there, the Ring Base Station will become your primary source of internet. You'll keep an eye on and adjust your internet settings in the eero app, which offers a variety of features to control your home network.
Ideally, the Eero 6 router achieves internet speeds of anywhere from 500 mbps to a max of 900 mbps. Depending on your internet usage and how many devices you have connected, this is usually more than enough.
The average range of operation is also said to be about 1,500 square feet. If you need more coverage for a larger home or area, you'll need to use eero 6 extenders. For this reason, Ring has designed their 13-piece set (costing $319.99 outside of sales) to accommodate larger homes. The 13-piece set includes these range extenders so it can give your devices – both Ring and other, the best possible range and internet speeds.
So with all of this, it would stand to reason that the internet speeds would be better than ever, right?
Despite the impressive tech specs, many users have found that no, this isn't enough. Not only are they not getting the advertised speeds, but far less! That can't be right. So what's going on, and how can it be fixed?
Internet/Wi-Fi Troubles with the Ring Alarm Pro
Unfortunately, even the best-laid plans have hiccups. Eero 6 routers are actually among the best out there today. So Ring figures pairing them together with the Ring Alarm Pro would make them even more amazing – right? This unfortunately isn't always the case.
Some Ring Alarm Pro users have experienced internet issues after switching over to using the Ring Alam Pro Base Station as their main router. Speeds tanked, as did reliability, and sometimes the connection even dropped entirely!
Why is this happening? While Ring has yet to offer a crowd-pleasing explanation or fix, there could be a few reasons.
Reason #1: Too Many Devices… And Extenders!
Mesh networks, such as Z-Wave, in general, are designed to work better when additional nodes, or devices, are connected. However, some have found quite the opposite to be true when it comes to the eero 6 mesh network of the Ring Alarm Pro. Additional nodes have actually contributed to a drop in internet speeds. 
One theory is as the router spreads the internet out over more devices, the signal weakens. This is usually the case when it comes to traditional Wi-Fi: the more devices you have connected, the more spread out the internet is.
For example, let's say your advertised speeds are about 600 Mbps, and you have 10 devices connected. Each device is only getting about 60 Mbps. Depending on what you're using the internet for, this could very well be enough. However, if you're gaming online, for example, this may not be enough. At times, certain devices may pull more bandwidth than others, causing a drop in connection speeds for other devices on the network.
Some mesh Wi-Fi routers can 'backhaul' traffic, which is basically where an extra 5 GHz radio band is used to enhance the efficiency of the mesh network. However the eero 6 within the Ring Alarm Pro does not offer this feature (unless you link each eero 6 extender with an ethernet cable). This means that having too many eero 6 extenders can slow down the network.
Having said that, some have reported success by using the optional eero 6 extenders, even if it doesn't seem that the area is big enough to merit using them. Still, the extra boost has helped in some cases, and allowed them to continue using as many sensors and devices as is needed for their alarm system.
Reason #2: Issues with Wi-Fi Band
Another issue that some have reported is that they're getting disruptions to a band of Wi-Fi that their Ring Alarm Pro isn't even connected to. For example, if they're using the 5 GHz band of Wi-Fi for their Ring Alarm Pro, they notice that they're getting disruptions on the 2.4 GHz band that their other devices are connected to. How is that even possible?
While it shouldn't be possible, sometimes it is. See, the 5 GHz band of Wi-Fi has a shorter, denser range, and unfortunately, this leaves it more vulnerable to interference. While it provides better speeds, it's also more susceptible to obstructions – whether physical or electronic signals. Using Ring Alarm Pro as a gateway has caused trouble in this regard.
One solution that's been explored, is changing the Ring Alarm Pro over to the 2.4 GHz band of Wi-Fi, along with the other devices. This has helped eliminate the extra interference – though you may also sacrifice the speed of your devices.
Reason #3: Changing IP Address
Another solution that's been explored and met with success, has to do with IP addresses. An IP (Internet Protocol) address, is an address, or series of numbers, that identifies a particular device on a network.
Most IP addresses tend to change every 24 hours. Devices connected to these networks typically connect without an issue – but this isn't always the case.
Most ISPs (Internet Service Providers) give you the option to have a static IP address (i.e. an IP address that doesn't change). Sometimes they offer it a cost. Having a static IP address has proved beneficial for many in terms of a stable connection.
Ring Alarm Pro users have reported success in maintaining spotty or dropped connections by changing over to a static IP address. With the eero app that you use with your Ring Alarm Pro, you would go into Settings, then Advanced. On the next screen you'll select Internet Connection, then Static IP. From there, you'll enter the required info to get a Static IP.
Whilst that's the most common place to change it, sometimes it might be hidden away under an "ISP Settings" menu instead:
Other Options for Home Alarm Systems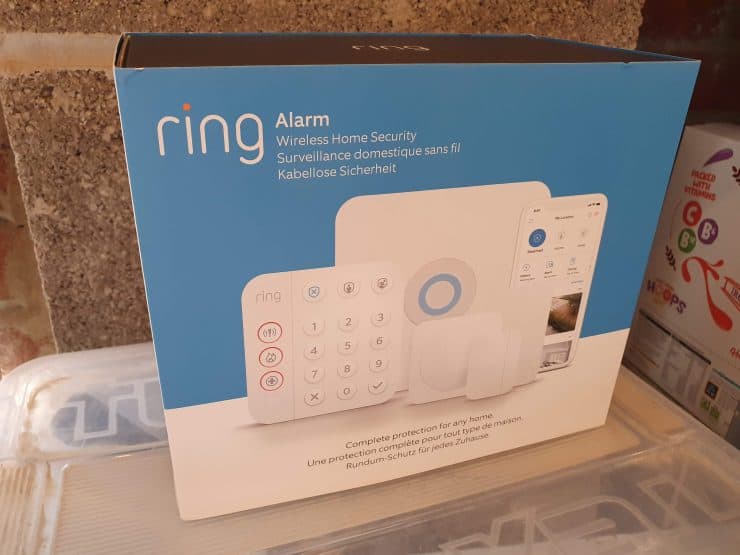 Okay so let's say you're not feeling the Ring Alarm Pro's issues. You want home security that doesn't also tank your Wi-Fi speeds. Completely understandable! What other options do you have?
For one, if you want to stick with Ring, you can opt for the more classic Ring Alarm System. With this, you won't have to worry about changing over your Wi-Fi router. You still get the Base Station, which communicates to other components of the Ring Alarm via Z-Wave.
The Base Station can also 'speak' Wi-Fi, enabling you to connect to the Ring app in order to control it. And without the included eero 6 router that the Base Station Pro has, you can use your existing, working internet, just the way it is.
Don't want to deal with Ring anymore? You can give the Wyze Home Monitoring System a try. Its system requires the Wyze Sense Hub, which connects all of your Wyze Sense Security devices together. The Wyze security system is pretty nice as it's fully customizable. The cost is on par with Ring, but their Home Monitoring Plan costs less. It's altogether a great alternative to Ring's Alarm Systems.
Simplisafe is another option you might explore. It's popular, and comes with many of the same alarm system components you'd get with Ring and Wyze. Their bundles are more affordable than purchasing a la carte, but that's an option too. You can even create your own bundle.
Vivint is also an option. You can build and fully customize your own system the way that best suits you and your home. The Vivint security system also works well with their cameras, creating a secure environment that protects your home from nefarious individuals.
Safety and Internet
Keeping your home secure is of course something we all want – but not at the sacrifice of our internet speeds. While the concept of an eero 6 router built-in to the Ring Alarm system seems to be a great idea, it does occasionally have its flaws. To that end, it seems Ring still has some kinks to work out when it comes to their Ring Alarm Pro system.
In the meantime, you can opt for the basic Ring Alarm, or even venture to another manufacturer to get that home security you need and deserve.