Smart doorbells are great – if you're out, you can easily speak to visitors or delivery people through your phone. They also record any motion that occurs around your property. But many smart doorbells also have flaws: battery-powered doorbells have worse performance than their hardwired rivals, plus many doorbell models require a monthly fee to get the most useful features. Ring are one of the worst offenders here, in my opinion.
That's why I wanted to write this guide which explores the pros/cons of various smart doorbells, and then recommends a few hardwired doorbells which do not need a monthly fee.
Recap: What Smart Doorbells Offer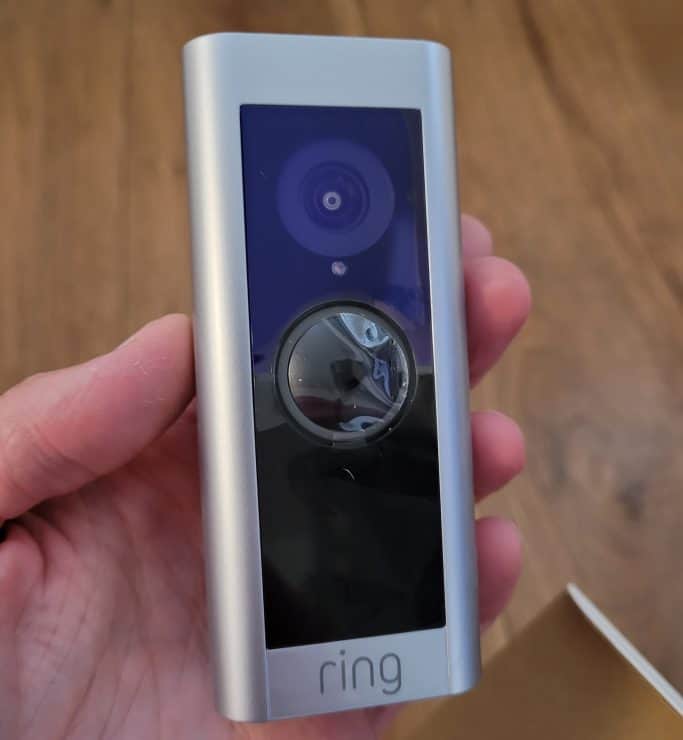 I am a big fan of smart doorbells. Modern life is busy and there are often times when no-one is at home – either due to being in work, doing the school runs, or just having a day out. If you have a visitor or delivery at this time, it can be frustrating to miss it. So being able to use two-way talk on your mobile phone to speak to the person at the door is a neat feature.
I also like that smart doorbells can act as a security system, recording anyone who comes within a certain area (or boundary) of your doorbell. This can be quite convenient (since it allows you to monitor your property when you're out), but this can also arguably reduce crime. Well, Ring claims that it does, but American police dispute that it has any major impact.
Nonetheless, these convenient little devices use minimal electricity, are sometimes easy to install, and they sometimes provide a bunch of useful features. What's not to love? Well, notice how I said 'sometimes' a couple of times there? As with anything in life, there are trade-offs:
The easiest way of installing a smart doorbell is to buy a battery model, since these do not require messing with your home's electrics. But batteries run out, meaning that many smart battery doorbells limit their own performance so that the battery isn't drained too quickly. Ring, for example, offer less motion-detection features on their battery-powered Ring doorbells.
All these awesome features cost money in some way – your phone app connects to 'the cloud', as does your smart doorbell. But 'the cloud' costs money to run, meaning that many smart doorbell makers charge you each month to get the most useful features (such as snapshot captures and people-only detection).
Before looking at ways of getting a useful smart doorbell without a massive monthly fee, I wanted to quickly explore why I always recommend wired smart doorbells.
Why Wired Doorbells Are Best
Installing a wired doorbell is a bit more hassle, and it sometimes provokes more questions than answers (Do I need a resistor? Can I re-use my existing wall chime? etc). However if you are able to get a hardwired smart doorbell, I would always recommend it.
That's because you don't need to worry about the battery running out and needing to charge it back up (a process that can happen quite often, especially in very cold climates). Equally, because the doorbell is receiving constant power, it can use its full suite of features and motion-detection capability.
For example, some wired Ring devices now include 3D radar that provides some awesome motion-detection features that simply cannot be provided by battery devices.
Equally the wired doorbell can carry out more on-board software processing (compared to a battery model), resulting in a range of possible benefits:
Sometimes the audio performance – when you speak to your visitor – can be made clearer and less distorted.
You can get smarter alerts, telling you what exactly triggered the motion alert (was it an animal, a car or a person?).
You can often configure more exact motion zones, which allow you say exactly where the doorbell should check for motion (and if the motion falls outside these zones, this get ignored).
In terms of the installation process, if you already have doorbell wiring then it should be simple – just remove your old doorbell, and install your new one. Sometimes you will need a new transformer, so just double check this point.
However not all is lost if you do not have a pre-existing wired doorbell. You can sometimes buy a plug-in adapter, that allows you to run a cable to your wired doorbell – and then plug into a wall socket. This makes the install process fairly straightforward (although granted, it is still more work than installing a wireless, battery-based doorbell).
All Wired Smart Doorbells I'm Aware Of (& Which Work Without A Subscription)
There are around a dozen fairly well known smart doorbells that can be hardwired to your home's electrics. I list them below in no particular order, and I also list their price when there is not a sale on (in other words, you can often get these cheaper):
All hardwired doorbells that I am aware of
Important Notes: Some of the doorbells above can be wired or wireless, meaning that they can rely on battery power or they can be hardwired. Ring also have a range of battery-powered doorbells (the Ring Doorbell 1-4 range) that can sort of be hardwired, but this only provides a 'trickle charge' to the battery – meaning that they are not truly wired doorbells.
While I briefly said whether I think those doorbells work well without a subscription, saying "Not really" or just "Yes" hides a lot of crucial detail. So I will now cover each in detail.
Eufy's Wired Doorbells (Without Paying The Subscription)
Eufy's marketing is fairly clear: they say things like "No Monthly Fees" and "No Hidden Costs: … eufy Security products are one-time purchases…". That's awesome!
So… why do they sell cloud plans (*shudders*)? The short answer here is choice. A smart doorbell records everything around it, and you have two choices of where to store these recordings:
On the device itself (this is called 'local storage'). The Eufy doorbells have 4GB of built-in storage, to record these clips to.
To 'the cloud'. This costs $3 per month or $30 per year per camera, so it's not exactly cheap if you have a few Eufy devices.
It's worth noting that whichever option you choose, you can still view the recordings in the Eufy app. Overall Eufy works really well without a subscription: the majority of the features work as you would expect, and this is in large part due to the local storage option.
There is one big downside to skipping the Eufy subscription, though. The Eufy doorbells don't support an expandable SD card (although the Eufy Doorbell Dual range does allow you to also record to a separate Eufy storage device).
This means that your device will not be able to store many recordings – 2K footage will only last for half a month (with 4GB of storage). After this point, your oldest recordings will get removed.

You would have to decide if half a month's worth of recordings is enough for you. Ring offer 180 days of video storage, and some other smart doorbells offer a month (or more). So this is a bit on the low side from Eufy.
Finally, I wanted to end this section with a positive, and cover that Eufy will send you rich notifications without a subscription. Rich notifications are a neat feature – when motion is detected (or someone presses your doorbell), a quick picture is taken and sent to your phone:
Receiving these (even without a subscription) might not sound like a big deal, but Ring and Tapo don't send rich notifications unless you pay their monthly fee. So I find it pretty cool that Eufy does send these for free. It backs up their "No Hidden Costs" marketing, in my opinion.
Arlo & No Subscription: Good Idea?
You know that whenever a company says "3 Month Trial Included"… you will lose probably a lot if you fail to pay beyond the trial, right? Well that's unfortunately the case with Arlo too. In contract to Eufy, Arlo's marketing says quite clearly:
"Arlo Secure trial included"
And if you scroll down to the fine print, Arlo's website says:
Renewal of an Arlo Secure subscription is required to maintain Arlo Secure features after the included trial. These features include cloud storage, object detection, activity zones and video history.

Arlo Video Doorbell sales page, Arlo.com, viewed 27th October 2022
In other words, if you have the Arlo Doorbell and you do not pay for a subscription, you lose all the important features:
Nothing is recorded.
You don't get enhanced notifications (telling you if the motion was caused by a person, animal or car, for example).
You can't tweak the motion detection zones (which Arlo call 'activity zones') to get less or more motion alerts.
You do still get motion and doorbell-press alerts without a subscription, and you can then jump into 'live view' mode to view what's happening in real time, but unless you are glued to your phone, this will not be too useful.
Ring Doorbells Without A Subscription: What Do You Lose?
Ring is the same as Arlo. Moving on.
Okay, that's not quite true. Firstly Ring and Arlo are different companies. But it's remarkable how many features you also lose out on without a Ring subscription.
I have covered the situation with Ring in a YouTube video:
But if you prefer text to videos, the summary is that without paying for a Ring Protect subscription:
You do still get phone notifications, but you will not get any snapshot captures.
You will lose all recordings. The only way you can see what's happening is in real time (by clicking the notification, and viewing the live stream from your doorbell).
You do not get object detection (meaning that Ring will not tell you if they detect a person – they will just say "motion detected").
You still do get covered for Ring's theft protection though, which is a decent feature. Basically if your Ring doorbell gets stolen, Ring will replace it once – free of charge.
That pretty much sums up the situation with Ring. The fact that you can't have local storage for free with Ring means that, like Arlo, you lose out on a lot.
Wyze Without Monthly Fees
Wyze annoyed many of their customers in early 2022, by reworking all of their subscription plans. Before this change, you could get a decent number of features from Wyze without paying a monthly fee.
You used to get cloud storage of Wyze recordings even without paying, but this now requires a charge of $1.99 per month per camera as part of their Cam Plus subscription. If you don't pay, you instead only get a still image of the motion or doorbell-press event.
You might be thinking "Okay that's annoying, but I can just use local storage", right? After all, Wyze have pretty good local storage support, right?
Wrong. Sorry to be blunt, but while some of Wyze's cameras have an SD card slot (which allows for local storage), Wyze's doorbells do not support SD cards. Wyze justify this with marketing spiel:
With your security in mind, there is no local storage on this doorbell, only cloud storage.

Wyze.com, accessed 27th October 2022
Basically in 2021 and earlier, you could use your Wyze Doorbell just fine without a subscription. You would get recordings saved in the cloud just fine. But as of 2022, new Wyze customers will be forced to pay a monthly fee if they want their doorbell's recordings to be saved.
Side Note: Existing Wyze customers might be able to sign-up for a Wyze Cam Plus Lite subscription for free, by entering $0.00 in the "Name Your Price" field. This allows you to get quick, 12-second clips recorded – which is better than nothing.
Does Nest's Doorbell Work Well Without A Subscription?
The situation is a little complicated with Nest, but in general, they are closer to Ring and Arlo. If you don't pay for the monthly Nest Aware subscription, you will generally lose out on a bunch of nice features: their AI-powered motion detection, 24/7 recordings, enhanced motion zones and configuration, video recording and sharing, and more.
Nest actually offer some really nice features, backed by Google's really powerful image and video recognition capabilities. But without a subscription, you lose all this.
The reason I say that "it's complicated" is because Nest released a few new products towards the end of 2021 (including the Nest Doorbell, which replaces the Nest Hello doorbell). These record motion-based clips for 3 hours. This is not much, of course, but it is more than Ring and Arlo offer.
It at least means that if you pick up your phone, and see a motion notification from an hour ago, you can actually view that recording. After 3 hours, that clip will get deleted (without a subscription), but this is still sort of useful.
Still, buying an expensive (and powerful) Nest doorbell and then not buying a subscription is a bit wasteful in my opinion. Yes you get 3 hours of motion-based recordings, but you miss out on so much. I would either skip Nest completely, or just buy their subscription.
Reolink: Is The Subscription Worthwhile?
Reolink only sell a single doorbell right now, and it supports power over Ethernet. This means that you are able to run an ethernet cable from your router (or a network switch), and then run it into a PoE Injector:
This adds a small amount of power to the Ethernet cable, which you then run to the Reolink doorbell. The benefit of this approach is that you don't need to worry about unreliable Wi-Fi. The downside of this approach is that it's usually more effort to install.
Thankfully, the Reolink doorbell also supports re-using your home's existing doorbell wiring (and then falling back to a Wi-Fi connection).
In terms of how well it works without a subscription: it's great! Sorry to sound like Tony The Tiger, but Reolink are similar to Eufy in that they believe that monthly fees should be a thing of the past.
Some of Reolink's cameras do have an optional cloud plan, but in general Reolink are designed to record locally (to an SD card), to a local NAS or a Reolink DVR which you can buy separately. They also support recording 24/7:
Reolink also allows you to set-up FTP functionality, meaning that you could set to record locally (to the SD card), but then back-up all the clips elsewhere.
One downside of Reolink is that their Google Home support is unreliable at times, and they don't currently support Alexa through the Echo Show. This is a pity, as is the fact that rich notifications are not sent unless you pay for the cloud plan.
Apart from that, though, the Reolink doorbell works pretty well without a subscription.
Amcrest
The Amcrest Doorbell offers some nice features for the price, including RTSP streaming that allows you to stream the recordings to a NAS within your home network. However Amcrest seem to push their Cloud Plan quite a lot, and after some digging, it's clear why.
While the doorbell does support local storage (via an SD card), you can't watch the recordings via the phone app! You actually have to remove the SD card and put it in a computer, and transfer the video recordings from there.
This naturally is not ideal, and so I would suggest that if you want to use RTSP, you can broadly use Amcrest's Doorbell without a subscription. After all, you will receive the usual phone notifications, and then you can look at the recordings on your NAS.
But if not, your choice is either clunky SD card support, or to pay for the cloud plan.
Netatmo's HD Video Doorbell – Does It Work Without Monthly Fees?
Netatmo's smart doorbell is HomeKit-enabled, which makes it a popular choice for Apple fans – although it naturally works with Amazon Alexa too.
Netatmo also believe in no subscription fees, with their marketing making this clear in many places:
There are no hidden costs after purchase.

All features along with video storage are available without subscription at all times.

Netatmo Doorbell sales page, last accessed mid-November 2022
You can save all recordings on a local SD card, but you are also able to transfer these to FTP backup space or Dropbox – which is quite nice. So this protects against a burglar ripping your doorbell off, taking all your recordings with it.
It doesn't include a battery – it must be hardwired, but this yields another benefit: it is designed to ring your existing doorbell's chime unit. This is nice, because even if your internet is out, you will still hear the doorbell go (via your old chime unit). It connects to your home's internet via 2.4 GHz Wi-Fi, and a few different brackets and wiring aids are included in the box.
This isn't a cheap option (especially at $300!), although it does sometimes go on sale – and the fact that it supports HomeKit is nice, and fairly rare in the wired doorbell space.
Lorex And Zero Monthly Fees
Lorex appear to be modelling themselves after Eufy, because their marketing clearly says things like "No Monthly Fees" and "Local recording protects privacy and saves money".
A 32GB WD microSD card is included, and this is probably enough for almost 2 months of recordings at 2K resolution, but it supports up to a 256GB card if you really want to store a load of recordings.
Plus unlike Amcrest, you can view those local recordings via the app! This doorbell supports customizable motion zones (via a range setting), and it naturally sends you a phone notification when motion is detected or someone presses your doorbell.
All this is available without paying a monthly fee, meaning that Lorex is a good budget option. They also support Alexa (and hence Amazon's Echo Show and Fire TV sticks), which is an improvement over Reolink.
Conclusion: Best Wired Doorbell If You Dislike Monthly Fees
Based on my hands-on-testing and research so far, there are three clear winners to me for wired doorbells without a subscription:
Eufy's Doorbells
Reolink's PoE (or hardwired) Doorbell
The Lorex 2K Wi-Fi Doorbell
All the other options tend towards forcing you to get a subscription, which is unfortunate but it's the way that many smart devices are heading.
I personally think that Eufy's products and phone app are the most polished out of the three (with their app rated 4.7/5 on the Google Play store). Reolink's products are solid but their app is a little clunky at times (but it is still decently usable overall) – resulting a rating of 2.7/5 on the Play store.
Lorex are a bit of a newcomer to the smart doorbell scene, but their product looks great and their app is fairly well reviewed.
The reason that I am discussing their apps is because that's ultimately where you will configure your doorbell, and also look at the recordings. If the app is no good, you might struggle to receive notifications on time, set-up your doorbell properly, and check the recordings.
That pretty much wraps up this round-up article. There are some great wired doorbells to choose from, especially if you don't want to be on the hook for ever-increasing monthly fees.