The purpose of having smart security is to be able to see what's going on inside and outside of your home – and in some cases, businesses. That's why many people purchase Wyze cameras and video doorbells to begin with, for that peace of mind. And most of the time, that's just what they get! Most of the time…
As with all devices, sometimes things go awry. In some cases, this one thing is video quality. While Wyze's recorded video is typically clear, some users are experiencing blurry videos. Definitely not ideal! So why is this happening, and how can you fix it?
Key Points
A poor Wi-Fi connection can resulting in reduced image quality.
Also double check if have accidentally set the video resolution to 360p in the app.
Night vision mode can malfunction, resulting in blurry images.
Fast moving people or objects will also usually show up as blurry.
About Wyze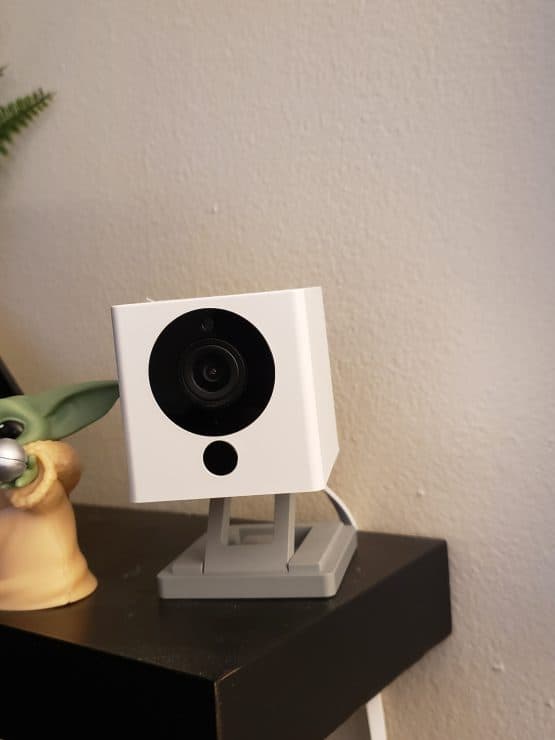 Wyze cameras are some of the most widely used smart cameras in the smart home world. They have a great line of cameras, including the Wyze Cam Pan, which has the ability to swivel and follow motion.
Wyze's Video Doorbells are also popular options. There's the Wyze Video Doorbell Pro, which is battery-powered, as well as the hardwired Wyze Video Doorbell. They've also recently been expanding their line of indoor cameras to include outdoor cameras, including a Floodlight Cam.
One main appeal of these cameras is their price. Compared to higher-end brands like Ring and Arlo, Wyze cameras come in at a lower price tag, but without sacrificing quality. They offer such features as local storage to a microSD card, as well as Cloud storage. There's even Sound detection, and detection of smoke and CO alarms.
Local storage is free (except for the cost of the microSD card), while Cloud storage is only available with a Cam Plus subscription. If you opt for Cam Plus Lite, you can name your own price – even if that's $0! However, your recordings are limited, as is AI detection.
Wyze cameras work using Wi-Fi so that they connect to the Wyze app. This is the hub of control where you make all your setting adjustments for your cameras. Speaking of hubs, Wyze cameras can also be used with various smart home hubs such as Alexa and Google Home.
These cameras are great options if you're on a budget, but still want a good-quality camera to keep an eye on your home or business. But now, what if you start using your cameras, and notice that some, or all of your recorded footage is blurry? Obviously, this isn't supposed to be, so what now?
Why Does My Wyze Cam Have Blurry Recordings?
Blurry video recordings are definitely a huge no-no in the smart home security world. You're trying to see who's snooping around your property, but now you can't tell if it's a person or a bigfoot sighting!
In this case, a little troubleshooting is in order. With a few relatively simple fixes, this problem can be remedied. But these fixes depend on the cause. So what's causing these blurry video recordings?
Poor Wi-Fi
Lackluster Wi-Fi is a pretty common culprit. Poor Wi-Fi can cause videos to be blurry, pixelated, and even choppy – like watching any internet video in the late 90s.
To fix this, you'll need to check on the Wi-Fi signal in the Wyze app first. From the Wyze app dashboard, you'll go to the camera you're trying to check on, then to Settings. In Settings, scroll down to Device Info and tap on that.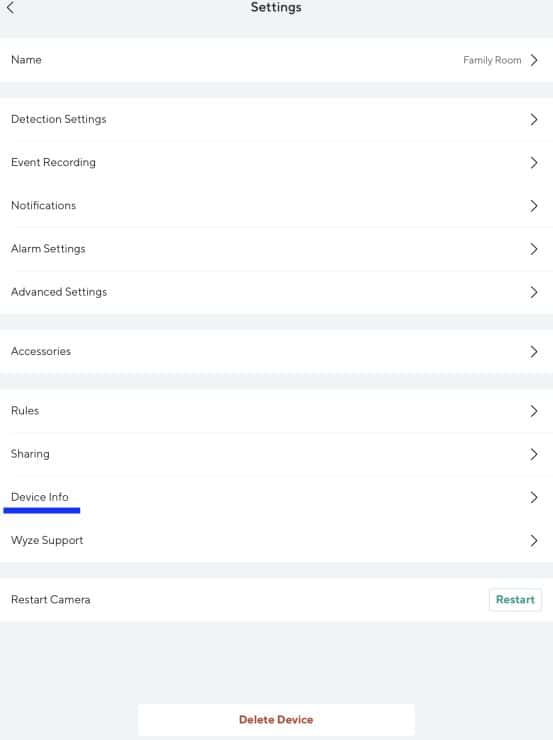 On the next screen, you'll see a few options. You're going to focus on Signal Strength. This is the strength of the signal that your camera is receiving from the router. Ideally, you should see no less than 3 bars. Anything less indicates that your internet strength to the camera is lacking, and you may need to make adjustments.
Consider also how strong your Wi-Fi is in relation to your other devices. If a lot of devices are using the internet, your Wi-Fi will likely suffer. If you have a connection of about 500 Mbps. If you have, let's say, 20 devices connected, this works out to about 25 Mbps per device. The bandwidth isn't necessarily divided evenly, so depending on how it's divided, it can put a strain on device performance.
If you can't upgrade your Wi-Fi speeds, try reducing the number of devices that are connected to your router – or explore a dedicated router for your smart devices. In addition, smartphones, for example, can use cellular data instead, if possible.  
Another fix you can try is seeing if you can move your cameras closer to the router, or vice versa. If that's not possible or practical, try a Wi-Fi extender.
There are many brands with many capabilities that can help with your internet signal strength.
Video Resolution
Resolution can sometimes go hand in hand with Wi-Fi. If your Wi-Fi signal isn't great, you may need to opt for a lower camera resolution, in order to lessen the strain during the video decoding process. Higher camera resolutions put a higher demand on Wi-Fi, which can cause the blurry images that you see. 
However, if your Wi-Fi is fine and you've got bandwidth to spare, the higher the resolution you choose, the better. This means you'll be presented with the clearest, most defined video available. This can, in turn, greatly reduce or eliminate blurry videos.
To change your camera's video resolution, go into the Wyze app, then to the camera in question. From there, tap on the button on the top, left-hand corner of your screen. It may say HD, SD, or 360p.
On the next screen, you'll see options to change the video resolution. HD is the best, SD is good, and 360p is the lowest quality.
Choose which one fits your situation the best and see if this improves the blurry video recordings.
Night Vision Malfunction
Sometimes Night Vision, even when set to Auto, doesn't come on when it should. Perhaps an errant light source is making the camera think it's lighter outside than it is, and not allowing the Night Vision filters to come on. This prevents you from getting a clear image in low-lighting conditions.
To try and see if this may be a problem, this is best tested in dark or very low lighting. Go to your camera's Settings in the Wyze app. Then tap on Advanced Settings.
On the next screen, you'll see options for Night Vision Mode.
Try turning Night Vision on, then off again. You should hear a click as it switches between modes. If you don't hear the click, and it doesn't switch to or from Night Vision, this is a technical issue that has to be addressed by Wyze.
If it does switch over, try manually turning Night Vision on (or off, depending on what you need), then look at Live footage to see if this has solved the problem. If your blurry videos were mainly in dark or low-lighting conditions, this issue may be the culprit. Having to put your camera on Night Vision manually can be a hassle, and it certainly shouldn't be that way!
If you find that Night Vision is a problem, it's a good idea to reach out to Wyze to have them help troubleshoot the problem or replace the camera if need be.
Fast Moving Objects
Then there are some issues that have nothing to do with the camera, but with life itself. One of these is fast-moving objects. Cars, running children or pets, etc, will be difficult for your Wyze Cam to catch, even if you're using the Wyze Cam Pan. I mean, have you seen how fast children run?!
In this case, there's little you can do. You can't tell the cars passing by the front of your house to slow down – and good luck telling an excitable child to slow down! For this, your best bet is to opt for Cam Plus and pause the video at random times to see the source of the blur as best you can. Using the best video resolution can also help make the blur a bit more clear.
Problems With Lens
Sometimes the lens themselves can have the issue. A scratch or other damage on the camera lens from a fall, or even manufacturing, can cause blurry images. If this is the case, the best solution is to contact Wyze or the retailer you purchased the camera from for a repair or replacement.
Speaking of lenses, some users have had a particularly annoying issue when it comes to the Wyze Cam v.3.
Some of them have been reported to have moisture in the lens of the camera. Why? There's really no rhyme or reason to it – but it's there. Because this is an internal issue, this is a case that requires contacting Wyze for a replacement.
Firmware Updates Needed
Sometimes what your Wyze Cam needs, is a firmware update. When it's needed, Wyze is usually pretty insistent about it and gives you prompts every time you open the app. These updates are relatively quick and can fix a number of issues.
To do this, open your Wyze app, then go to the camera you want to update. Go to Device Info. On the next screen, scroll down and tap on Firmware Version.
On the next screen, it will tell you if you're up to date on the Firmware, or if it needs to be updated.
Other Smart Cameras – Are They Blurry Too?
Wyze is for the most part, great. Blurry videos can occur, but it's not the norm. However, if you're just not feeling it, no worries! There are other cameras that you can try out.
Ring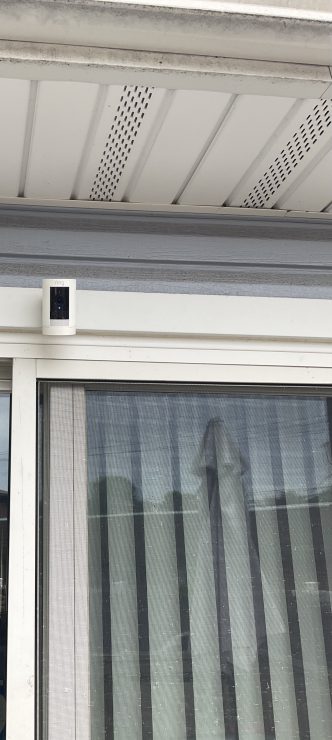 Everyone's favorite – for the most part. Blurry videos aren't common, but if your Wi-Fi is poor, or fast-moving objects are in the video, you may run into a blurry video here and there with them as well.
They have an extensive variety of cameras to choose from and are compatible with smart home hubs like Alexa, Samsung SmartThings, and Google Home. They do run a higher price tag than Wyze cameras, but all in all, they're great cameras.
Arlo
Arlo cameras are known to have really great picture quality. They also run a higher price tag than Wyze, but many say they're worth it. These cameras aren't known for producing blurry videos and are definitely an option if you want high-quality security videos.
Reolink
These cameras are geared toward high-tech home security. They come in battery-powered versions, Wi-Fi, 4G LTE, and PoE (power over ethernet) options. Power such as over PoE can make Wi-Fi issues a thing of the past. They even have 4K cameras that may make blurry videos a thing of the past. 
There are many camera brands such as Eufy, Google Nest, Annke, and so much more! Every camera has its strengths, and those that use Wi-Fi are always going to be prone to Wi-Fi issues.
Things like fast-moving objects will always be a problem, however. After all, it's hard to catch a motorcycle whizzing by, or your dog or cat doing zoomies across the room! But for the most part, most smart cameras can catch the footage that you need.
Get The Picture
No one wants to deal with blurry video recordings. Fortunately, this isn't common with Wyze. But if it does occur, there are a few ways to fix it.
And if you're not feeling Wyze, no problem! There are other cameras that can get the job done clearly.