Reviewing footage from your Wyze cams is just part of keeping an eye on things. Wyze cameras allow you to do this if you have 1) a micro SD card installed, or 2) subscribe to a Cam Plus plan. These two options allow motion or sound events to be saved so you can look at them later. So now that you've got your videos, what if you want to scroll to a particular point?
Some users have experienced difficulty doing this, or at least figuring out how to do this new unread topics. So then it leaves the question, can you easily fast forward and rewind your Wyze cam footage?
Key Points
Wyze allows you to skip forward/backwards 30 seconds when viewing memory card recordings.
Cloud-based continuous recording instead have a slider, and it can be choppy to use.
Neither option has "speed up" options (beyond 1x speed) within the Wyze app, however.
Thankfully, though, you can often view the microSD or downloaded footage on a computer or mobile device, and fast forward – and speed up – there.
About Wyze Cams
Since 2017, Wyze cameras have risen to fame and become a popular smart home camera brand. These compact, yet powerful cameras have a special place in the homes of the budget conscious. Their performance and value make them an asset to many.
As the years went by, their line continued to expand. They now offer real time video doorbells, a wide variety of indoor and outdoor cameras, an alarm system, as well as other smart home products to make everyday life easier.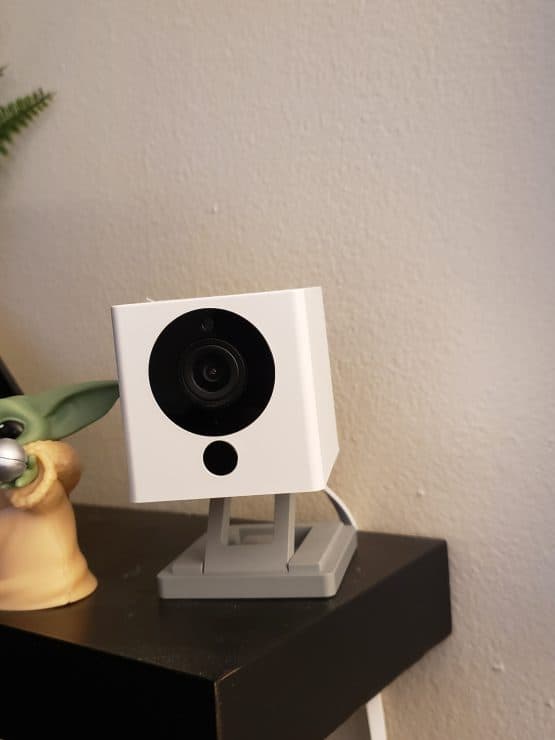 Wyze cams work using the 2.4 GHz band of Wi-Fi, which it uses to connect to the Wyze app. The Wyze app is your hub of control for all of your Wyze products, and where you put into place your settings. Settings such as motion and sound detection, night vision settings, and so much more can be controlled here.
To get even more out of your Wyze cams, you'll want to opt for their Cloud subscription service, Cam Plus. Using Cam Plus enables you to get longer videos and take advantage of features such as advanced AI detection.
But to store videos, you don't have to rely on a Cloud subscription. Wyze is one of the smart camera brands that offer local storage, in addition to Cloud storage. If you purchase a memory card and insert it into the camera, you can achieve continuous recording.
If the Secure Digital card gets full, older videos will be deleted to make room for newer ones.
Speaking of video footage, some users want to be able to scroll through and either fast forward or rewind to get to certain points of their recorded videos. But first, it's important to consider how Wyze cams record.
How Wyze Cams Record
Wyze Cams record according to the preferences you've set up in the Wyze app. For example, you may have them record just motion, sound, or both. They also record when certain sounds are heard, such as smoke and CO alarms.
You can even create a schedule by which your cameras record. This way you get the footage you need, at the times you need it.
If a micro Secure Digital card is used, you can even opt for continuous footage recording. All footage will then get saved to the micro Secure Digital card until it's full. When it's full, your camera will start to delete older recordings to make room for new ones.
If you have a Cam Plus subscription, your videos are saved to the Cloud instead. If you have Cam Plus Lite, you'll only be able to get 12-second event videos, whereas with Cam Plus you'll get 30-second event videos.
If you have a Cam Plus plan, your camera will also have more advanced AI that can decipher between people, packages, and even vehicles. When these videos are recorded in the app, there will be labels next to the specific recordings that indicate what they detected. Some may even have more than one label.
For example, you may encounter videos that have tags like "Vehicle" and "Package" if both were detected at that time. For those who want to get straight to the source of their motion notification, these are great at helping users determine what merits their attention.
Note: that these specific labels are for Cloud-based videos only, and will only appear if you have enabled each kind of notification.
But what if you still need to fast-forward or rewind through camera footage? Can you do it?
Can You Easily Fast Forward/Rewind?
How you fast forward and rewind depends on how your recorded video footage is stored. Each method has its own pros and cons.
Viewing Footage From A MicroSD Card
With video saved on a micro secure digital card, Wyze offers 30-second skip forward and rewind on recorded videos. To do this, go into your Wyze app, then from the dashboard, select the camera you want to view footage for.
From there, at the bottom of the live screen view, tap 'View Playback'. If you have a micro secure digital card installed, you'll be taken to where you can view recorded footage.
You'll see an option to rewind or fast forward 30 seconds, as well as a slider where you can skip through your video footage manually.
However, you can't change the speed, and sometimes the footage will jump if you use the slider and skip too far ahead.
Viewing Footage From The Cloud
If your videos are saved to the Cloud, via a Cam Plus Lite or Cam Plus subscription, you'll need to view Events instead of Playback. If you try to use the 'View Playback' option, you'll get an error message.
From the Wyze app dashboard, go to the bottom of the screen and tap on Events.
The next screen will show you different days as well as times for events. After you select a video, you can use the slider to move through the video to fast forward or rewind.
Some users have complained that the slider only lets you skip through after a certain point and that it can get choppy. In addition, you can only view footage at one speed, 1X. For that reason, many say using a micro secure digital card provides a smoother experience when it comes to rewinding and fast-forwarding.
But what if neither method works for you? Are there other ways to view your footage?
Other Ways To Fast Forward Or Rewind
Removing The Micro SD card
One option you can try is removing the micro SD card from the camera so that you can view the footage elsewhere, such as on a computer. Because most computers come with SD card slots, you'll need to use an adapter. Once you put the micro SD card in the adapter, you can insert it into your computer.
On a Mac, the icon will appear on your desktop.
On Windows or Chrome systems, you'll typically get a prompt to open the disk. If not, you can go into My Computer and click on the disk icon from there.
Loads of different computer programs then allow you to speed up the playback of the footage. For example, VLC Player on Windows allows you to press the "]" key to make the footage play back faster – it supports up to 32x speed in some cases, but the footage will only play the sound at up to 4x speed.
Download to Your Mobile Device
Another option you can try is downloading the Wyze videos from the app, to your mobile device. You can do this with Event videos only. This option isn't available for microSD recordings as of yet. Even Wyze has confirmed this.
To download Event videos, go to your Wyze app dashboard, then tap on Events at the bottom of the screen. Select the video you want to download, then pause it. You'll see a couple of options in the upper, right-hand corner of the screen. Select the download icon.
The video will then be saved to your mobile device to view and skip through as you please with your device's video player (most default video players have speed up/down features, but there's lots of other third party apps that have these features too).
Other Cameras That Offer Fast Forward/Rewind
If you're not feeling Wyze's options for playback of your videos, you might decide to see what else is available out there. Here are a few other smart camera brands that also offer the ability to skip through your recorded videos.
Ring
Probably the most popular brand of smart camera today. Ring cameras offer the ability to scroll through your videos with a slider, much like Wyze. In order to have any videos to fast forward or rewind through, however, you'll need their Cloud subscription plan, Ring Protect. Without it, no recordings will be made or saved.
When it comes to playback speed, unfortunately, there's no way to adjust it. If you want to speed it up, slow it down, or look through your video more carefully, you'll need to download the video in question. Then you can view it on your device at your own pace.
Eufy
Eufy cameras also allow you to skip through your video recordings – but only going forward. To date, users haven't been able to go in reverse, or rewind. To catch anything you missed, you'd have to watch the video clip from the beginning. Changing the playback speed also isn't possible unless you download the video to your mobile device.
Arlo
The ability to fast forward or rewind on an Arlo camera depends on the model you're using. You'll get the best results from an Arlo cam that offers CVR, or Continuous Video Recording. Only certain models offer this, such as the Arlo Ultra, Pro 2 and 3, Q and Q plus, and Baby Cameras.
After videos are recorded, you can then fast forward and rewind through them by moving the slider. This way you can catch anything you might have missed, or get straight to the footage you're looking for.
Taking A Closer Look
Sometimes you just want to be able to skip right to the part of your Wyze videos that matters most. Fortunately, this is possible. Whether your videos are recorded to a micro SD card, or uploaded to the Cloud so you can view them in the Wyze app. You can even download them to your mobile device if you so choose.
And if you're not entirely keen on Wyze, not a problem! There are other smart camera brands out there that might suit your needs better.