When it was first released, 5 GHz WiFi was advertised as being faster and sometimes 'more reliable' than 2.4 GHz WiFi. Whilst this is broadly true, many Ring and Nest devices still seem to only support 2.4 GHz WiFi. This got me wondering whether this can lead to worse connections for your smart devices, and which of Ring and Nest's devices actually do support 5 GHz connections?
Some of Ring's smart devices and the majority of Nest's products support 5 GHz connections, which is good for improving connection speeds but it can be bad if there's various walls in-between your device and the router. In these cases, 2.4 GHz WiFi can actually still be better.
Why 5 GHz WiFi Is Good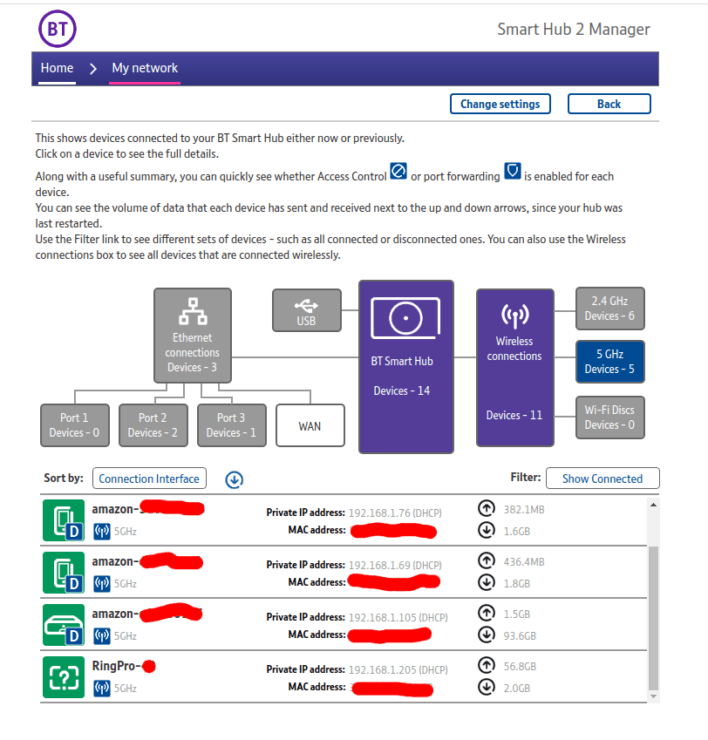 The 2009 WiFi standard known as '802.11n' was fairly well advertised (unlike many of the other variations), because it finally introduced 5 GHz WiFi. This was said to introduce both faster connection speeds (due to the higher bandwidth that's possible), and more reliable connections (less technologies communicate over the 5 GHz radio frequency).
The connection speeds can be as high as 1,300 Mbps for 5 GHz WiFi, compared to 600 Mbps max for 2.4 GHz. Whilst this sounds great, in reality barely any WiFi device hits 600 Mbps speeds let alone 1,300 Mbps speeds for a variety of reasons:
Many devices won't have cutting edge wireless boards/chips on them, meaning that they wouldn't be able to support 1,300 Mbps connection speeds on them even if your internet connection support this. Which brings me onto…
Most household's have nowhere near 1,300 Mbps internet speeds. The global average is currently 78 Mbps, with 20 countries still having below 10 Mbps average speeds. Unless you have a real household internet speed of over 600 Mbps, you'll find limited use from 5 GHz WiFi in real world conditions.
5 GHz WiFi has a shorter range and the signal strength drops (more than 2.4 GHz WiFi) when going through solid objects, something which I'll come back to later.
Having said all this, I think that devices which support 5 GHz WiFi can still be worth buying for one simple reason: it's more reliable. Its increased stability (compared to 2.4 GHz) is based on the fact that the 2.4 GHz radio band is very crowded: not just from the vast majority of electrical devices that use WiFi, but also some telephones, baby monitors, ZigBee, garage door openers and more.
Plus a device that supports 5 GHz WiFi can still use 2.4 GHz WiFi. So owning a 5 GHz-supporting smart camera and 5 GHz router will still allow you to connect over 2.4 GHz if you're noticing range issues with 5 GHz.
Which Ring Doorbells & Cameras Support 5 GHz WiFi
Ring sell quite a few doorbells and cameras, but a surprising number of them don't support 5 GHz WiFi. This compares to Nest (who I'll explore later) that do have a fair amount of 5 GHz support. In terms of the full Ring list:
Device

Supports 5 GHz WiFi?

Ring Doorbell 1 (1st gen)
No
Ring Doorbell 1 (2nd gen)
No
Ring Doorbell 2
No
Ring Doorbell 3
Yes
Ring Doorbell 3 Plus
Yes
Ring Doorbell 4
Yes
Ring Doorbell Wired
No
Ring Doorbell Elite
Not really applicable (Elite = PoE, not WiFi)

You could ignore the PoE adapter and then use 5 GHz WiFi,
but this is a bit of a waste of money.
Ring Doorbell Pro
Yes
Ring Doorbell Pro 2
Yes
Ring Peephole Cam
No
Ring Floodlight Cam (Original)
No
Ring Floodlight Cam Plus
No
Ring Floodlight Cam Pro
Yes
Ring Spotlight Cam (Original)
No
Ring Spotlight Cam Plus
No
Ring Spotlight Cam Pro
Yes
Ring Indoor Cam
No
Ring Stick Up Cam Battery
No
Ring Stick Up Cam Plug-In
No
Ring Stick Up Cam Solar
No
Ring Stick Up Cam Elite
Not applicable (Elite = PoE, not WiFi)

You could ignore the PoE adapter and then use 5 GHz WiFi,
but this is a bit of a waste of money.
Which Ring doorbell and camera supports 5 GHz WiFi.
In other words, around half of Ring's doorbells support 5 GHz WiFi but only two of Ring's cameras do (both from their 'Pro' range).
Does The Ring Security System Support 5 GHz WiFi?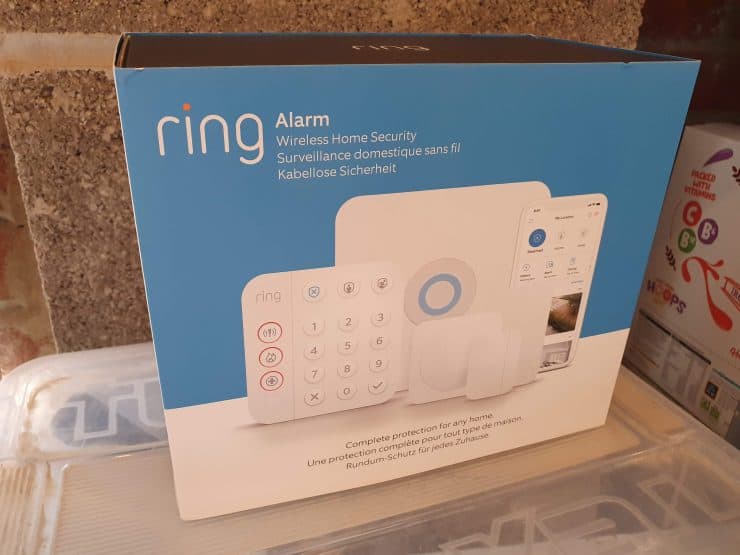 Ring's alarm system connects over WiFi (with a cellular backup), and it also has some peripheral devices such as flood & freeze sensors, smoke/CO alarms and a panic button. Do these support 5 GHz or not?
Well, as it turns out, the flood & freeze sensor, smoke/CO alarm and the panic button don't use WiFi at all. They use Z-wave, which is 908.42 MHz in America and 868.42 MHz in Europe.
The Ring alarm system itself has various parts, and their communication method also varies:
Ring keypad – this uses Z-wave
Ring range extender – also Z-wave
Ring base station – this supports 2.4 GHz WiFi only (along with Z-wave, Bluetooth, ZigBee and a cell backup).
Ring contact sensor – Z-wave
Ring motion sensor – Z-wave
In other words, the base station is the only part of the alarm system that uses WiFi, and this is restricted to 2.4 GHz WiFi only. No part of Ring's security system therefore uses 5 GHz WiFi.
Google/Nest Devices That Support 5 GHz WiFi
Google – who purchased Nest in 2014 – now have a wide range of smart products on the market: from thermostats to smart hubs, and cameras to doorbells. In general there is a good amount of support for 5 GHz WiFi, especially in later versions.
Having said that, a few of their outdoor products only support 5 GHz WiFi in America and/or Mexico:
Note: In the United States and Mexico, Nest's outdoor cameras can use the 5GHz and 2.4GHz bands. In the rest of the world, these cameras are regulated as outdoor Wi-Fi products, which means they can't use some of the 5GHz bands. So we designed them to only use the 2.4GHz band.

Google Support, "How to use Nest products with 2.4 and 5 GHz Wi-Fi networks", 2020
In terms of the full list of which devices do/don't support 5 GHz:
Device

Supports 5 GHz WiFi?

Nest Learning Thermostat (1st & 2nd gen)
No
Nest Learning Thermostat (3rd gen)
Yes
Nest Thermostat E
Yes
Nest Protect
No
Nest Cam Indoor (Standard and IQ)
Yes
Nest Cam Outdoor (Standard and IQ)
Yes (America & Mexico)
No (Rest of the world)
Nest Cam With Floodlight
No
Nest Hello Doorbell (original)
Yes (America)
No (Rest of the world)
Nest Doorbell Wired (2nd gen)
No
Nest Doorbell Battery (2nd gen)
No
Google Wi-Fi System
Yes
Nest Wi-Fi System
Yes
Nest Secure
No
Google Home
Yes
Google Home Mini
Yes
Google Home Max
Yes
Nest Hub
Yes
Nest Hub Max
Yes
Nest Mini
Yes
Google and Nest smart devices that do and don't support 5 Ghz WiFi.
In other words, all of Google/Nest's smart speakers and hubs support 5 Ghz WiFi, and the majority of their other devices (including their doorbell and camera) do also.
However any outdoor device (which Google say includes the Nest Hello doorbell) only supports 5 GHz WiFi in parts of America, unlike the Ring Doorbell range which supports 5 GHz throughout much of the world.
PSA: 2.4 GHz Can Be Better Than 5 GHz WiFI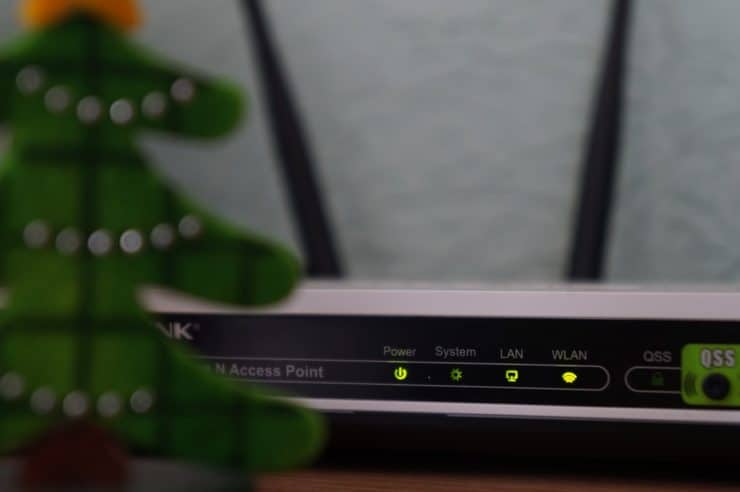 I mentioned at the start of this article that the range of 5 GHz can drop off a lot when there's solid objects between the router and the connecting device. In this case, a connection can still often be made, but the signal strength will be worse than with 2.4 GHz connections.
This can lead to more internet connection drop-outs, or just slower overall internet due to occasional internet packets needing to be re-sent.
Therefore if there's a lot of solid objects (such as walls, and especially insulated walls) between your Ring or Nest device and the router, you may want to experiment by connecting to both 2.4 GHz and 5 GHz. You can check the WiFi signal strength of your devices in both apps:
In the Ring app, go to [select device] -> Settings -> Device Health -> Network
In the Nest app, go to Settings -> Technical Info -> Network.
Ring gives a signal strength as a negative "RSSI" number. Anything from -50 to 0 is very good, whilst -50 to -75 is "good enough", and anything from -75 to -100 is bad. The below health (of -38) is considered "very good":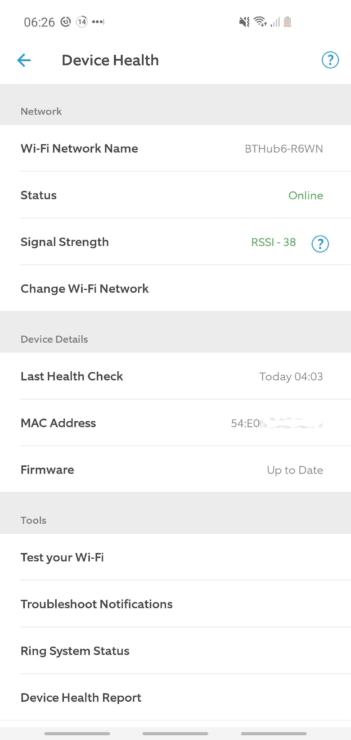 Nest flip this to give a less-confusing scale from 0 to 100, with 100 being the best signal strength and 0 being the worst.
In terms of signal strength, I have a few Echo devices and a Ring Doorbell Pro connecting to 5 GHz WiFi without any real issue (despite some going through solid walls, and my Ring Doorbell going through a heavily insulated external wall):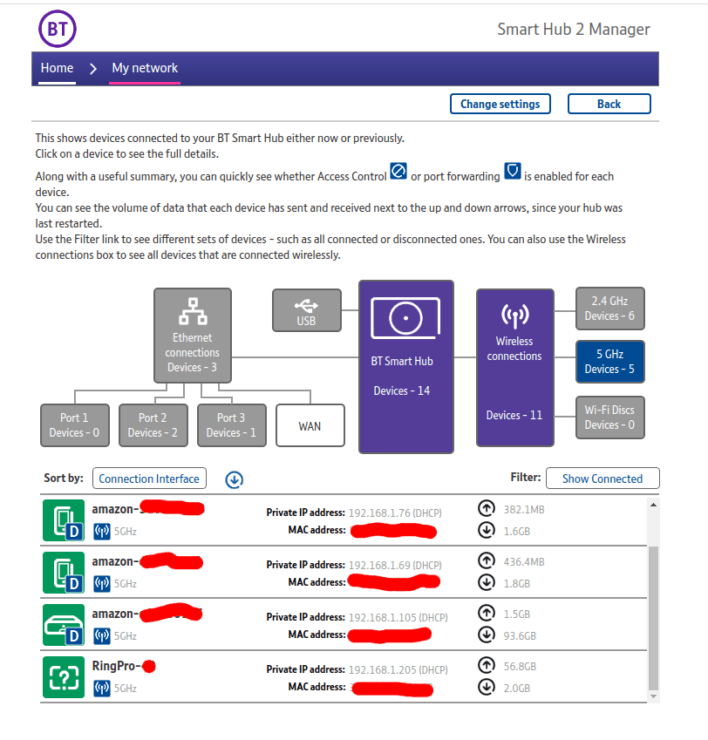 My Ring Doorbell Pro reports a RSSI -64 value which isn't meant to be too good, but I've never had any issues with it. I've also had no problems with my Echo device connections either.
If your device and router supports both 2.4 GHz and 5 GHz WiFi, but the device is only connecting on 5 GHz internet, there are a few things you can check:
Some routers publish a separate WiFi network for 5 GHz internet, usually by appending "-5", "-5g" or "-5ghz" on the end of the WiFi name. In this case, you actually need to make sure that you're connecting to the standard (2.4 GHz) WiFi name, not the one with 5 Ghz appended to the end.
Some devices will allow you to choose whether to connect on 2.4 GHz or 5 GHz. This is more common on computers and smartphones, and neither Ring or Nest products currently give you an option of which WiFi band to choose – they choose one for you.
As a last resort, sometimes you're able to switch a device from 5 GHz to 2.4 GHz on your router's internet admin console. The steps for this varies – plus not all routers support this option – so try Googling your router model and see whether this is a supported feature.